My friend, Sharon and our daughters, Kim and Tracy, went off to Stateline, Idaho for a large indoor garage sale on Saturday. We got out of the rain and here are a few fun things I found. This old metal box was 2.50.
I just had to have all this patina! The all brass faucet was 1.50!
There is a faint design on the top of the box, not sure what it is.
A few more treasures, an old Prince Albert tin, a short ruler and a wonderful old box, all for $8.
Both sides of this box have such interesting patina! And check out the bottom! I live in the town of Cheney and apparently this box just had to come home…I never even noticed this when I bought it.
Check out these parties…..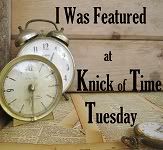 <a
http://my1929charmerblog.com