The girls are thrilled that I finally got some decorating done for them.
Oh, my, that looks like a very pretty cocktail…nope…no, 'cock in the walks' allowed around here….maybe, just a little tiny eggnog to celebrate the holidays!
It's all about my Queens, Eleanor Roosevelt, Rosa Parks and Amelia Earhart. Those beautiful ceramic ornaments are from my sweet blogging friend, Tammy (http://simplesouthernhappiness.blogspot.com/). I got the 'cocktail' at a recent Sisters on the Fly meet and the chicken is a wood ornament I finished recently.
These are the hens that Tammy made for me….one for each of my ladies! Sorry about the lousy picture…backlight…overhead lighting….yada yada…..
Merry Christmas to all of you!
I'm linking up to these parties…..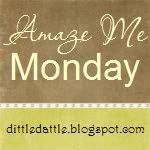 http://www.savvycityfarmer.com/